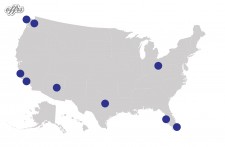 Leveraging Artificial Intelligence and predictive analytics, offrs.com works with top brokers to launch R.O.O.F. in major cities across the United States to revolutionize lead generation.
Austin, TX, August 15, 2016 (Newswire.com) - Today offrs.com announced the launch of the first ten Real Estate Offices of the Future (a.k.a. R.O.O.F.). Each R.O.O.F. is provided exclusive access to the offrs.com smart data platform and marketing platform. R.O.O.F. clients also benefit from offrs.com's patent-pending algorithm that predicts future listings and automates lead generation.  
"The primary reason we have so much interest in ROOF is because we have automated lead generation for real estate agents and brokers. We leverage big data, machine learning algorithms and automated prospecting to identify home owners looking to sell. " stated Mark Dickson, CEO of offrs.com.
offrs.com has already deployed a ROOF in multiple major markets including Seattle, Los Angeles, New York, Washington, D.C., Tampa and Miami. The first Real Estate Offices of the Future include industry leaders from REMAX, Keller Williams, Berkshire Hathaway HomeServices and members of the Leading Real Estate Companies of the World network.
During the first month of the ROOF program, offrs.com identified more than 1,000 potential listings with a combined market value of over $600,000,000 (and $18,000,000 in gross commission income) for R.O.O.F. clients. 
"We see the ROOF program transforming how every real estate office will do lead generation in the future. By combining the power of artificial intelligence and a proven marketing program we will enable our brokerages to be first in line for every listing," claims Rich Swier, Chief Visionary of ROOF.
Search portals like Zillow.com and Realtor.com are the market leaders in buyer lead generation, but until now, no other company has provided a solution for systematically generating seller leads. Currently, 80% of seller leads are created through referrals and existing relationships but recently research has suggested that over 50% of seller leads in the next five years will be driven by predictive analytics and artificial intelligence. 
"In the United States over 5,000,000 homes are sold each year and the opportunity to be the leader in not only predicting who will sell, but also connecting the seller to a quality Real Estate Office of the Future, is exciting to us. " concludes Mark Dickson.
Source: Offrs.com
Share: