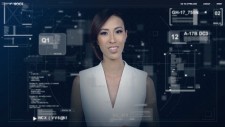 Offrs.com launches first artificial intelligence driven assistant for real estate brokerages.
SARASOTA, FLORIDA, August 8, 2016 (Newswire.com) - offrs.com, the leader in Smart Data and Marketing for real estate, today announced the launch of their artificial intelligence driven system for real estate brokerages. The official launch event takes place at the historic Ritz Theater in Austin, TX, during the annual Keller Williams Mega Camp. This launch party will also unveil, "Raia," an artificial intelligence assistant that provides marketing automation for real estate brokerages and agents they serve helping them create the real estate office of the future.
"The genesis of ROOF started with predictive analytics and our ability to marry big data with marketing for real estate agents, but today we are excited to launch the first artificially intelligent real estate assistant for brokers - RAIA. She will help brokerages own the future of Real Estate," said offrs.com Co-founder, Rich Swier.
We believe RAIA will play a major role in helping real estate agents and brokers own the future of real estate.

Mark Dickson, CEO
Artificial Intelligence has begun to surface in applications in many industries, but this will be the first artificially intelligent assistant for real estate agents and brokers that will help them execute important tasks required to grow their business. RAIA will help increase production, improve marketing and be the primary driver for the real estate office of the future.
"We believe we're solving an enormous business challenge for brokerages by providing data and metric driven business solutions specifically designed to transform our clients into real estate offices of the future. The bleeding edge of technology is where offrs.com is positioned and the opportunity is here for brokerages, now," said offrs.com Co-founder, Mark Dickson.
The ROOF program combines predictive analytics, artificial intelligence and machine learning algorithms to help brokerages identify, target and touch prospective sellers. In addition to providing Smart Data and a robust prospecting platform, the ROOF program also provides automated services that create a systematic approach to lead generation.
"Imagine having a digital assistant leveraging artificial intelligence to enhance fully automated outreach each and every day for a brokerage. We are not just predicting the future, we will be building the future for our customers. The ROOF program is going to 'wow' brokerage owners," said offrs.com VP National Business Development, Frank Chimento.
About offrs.com
Since 2012, offrs.com has been a leading provider of Smart Data and Marketing products and services for real estate agents and brokerages. With flagship programs like R.O.O.F. (Real Estate Office of the Future) offrs.com leverages artificial intelligence to automate lead generation for real estate brokerages and agents. Offrs.com serves thousands of real estate professionals from all major national franchise brands and large independent real estate brokerages.
Source: offrs.com
Share: